Celebrate Belgian National Day with TO.BE Belgian Social Club and us!
Get your waffles, your fries and your mussels at the ready because it's time to celebrate the Belgian National Day in style!
We are thrilled to invite you to TO.BE's inaugural National Day Event, where we'll come together and honour our Belgian heritage for what promises to be a night of unforgettable memories!
Everyone is welcome to join us as we immerse ourselves in the Belgian joie de vivre!
Let's paint the town red, black and yellow!!!!
📅 Date: Friday, July 21
🕕 Time: 6 p.m. to 2 a.m.
🏢 Venue: Brickworks Ciderhouse (709 Queen Street East, Toronto)
🎵Entertainment: DJ that will keep you dancing all night long
🍽Food: cocktail-style dinner
💰Cost: $35 per person
Come one, come all!
This event is open to everyone.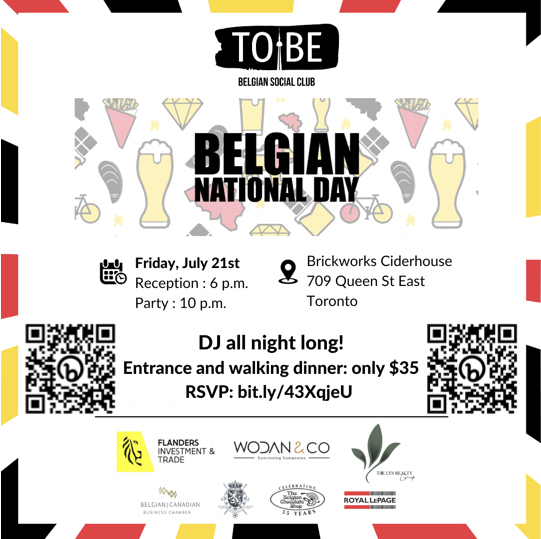 A big thank you to sponsors: Flanders Investment & Trade, The Lys Realty Group, Wodan &
Co and also Royal Lepage, The Belgian Chocolate Shop, the Embassy of Belgium in Canada
and the Belgian Canadian Business Chamber (BCBC).
#BelgianNationalDay#BelgianSocialClubToronto#Belgium@BelgiansinToronto
@belgiumconnect@belgiumincanada