On the 28th of April of 2022, the Belgian Canadian Business Chamber hosted its first Business Excellence Awards Gala at the Gardiner Museum in Toronto, Canada.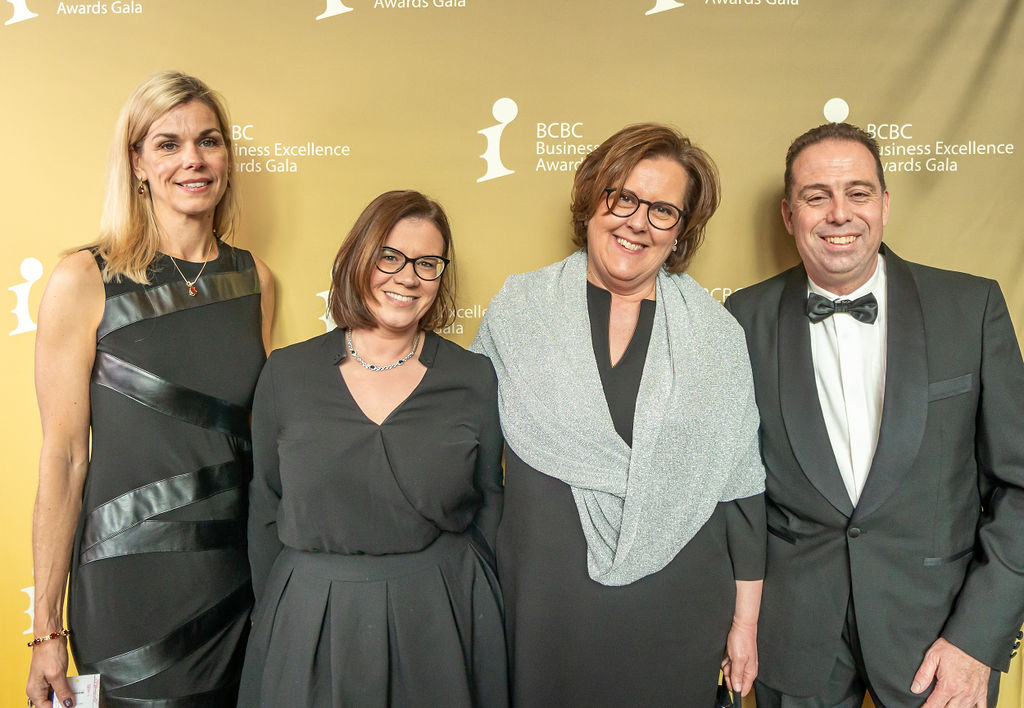 A sold out Gala event started with a Champagne Reception and included Belgian-Canadian business and diplomatic representatives such as Steven De Bischop, Regional Manager Sales Benelux, Scandinavia, Finland, & the Baltic States at Air Canada and Board member of the Canada-Belgium Luxembourg Business Chamber « CanCham »; Brad Campbell, Site Director (Niagara Falls) at Solvay; Lotte Anderson, National Canadian Sales Manager at Barry Callebaut; Nicolas Renaud, Partner at BDG & Partners; Nadiya Nychay, Partner (International trade) at Dentons Europe; Frédéric Landtmeters, President of Molson Coors; Xavier Van Overmeire, President of the Belgian Canadian Business Chamber « BCBC » and Partner (International Trade) at Dentons Canada; and His Excellency Patrick Van Gheel, Ambassador of the Kingdom of Belgium to Canada and Honorary President of BCBC.
Special thank you to our Gala Grand Partners: Dentons Canada, Embassy of the Kingdom of Belgium to Canada, Molson Coors, Air Canada, and BDG & Associés; Award Sponsors: Degroof Petercam, The LYS Realty Group, Solvay and Dymon Wine Cellar; Gala Sponsors: Antwerp World Diamond Council, Barry Callebaut, PolyBEER, McClelland Premium Imports and BARCO.
The MC for the evening was singer Albane Chateau, Albane offered the audience delightful entertainment with a Belgian repertoire. Albane and Xavier Van Overmeire, President of the BCBC, showcased a presentation on "Those Differences that Brings us Together" showing that we have more things in common that we may think.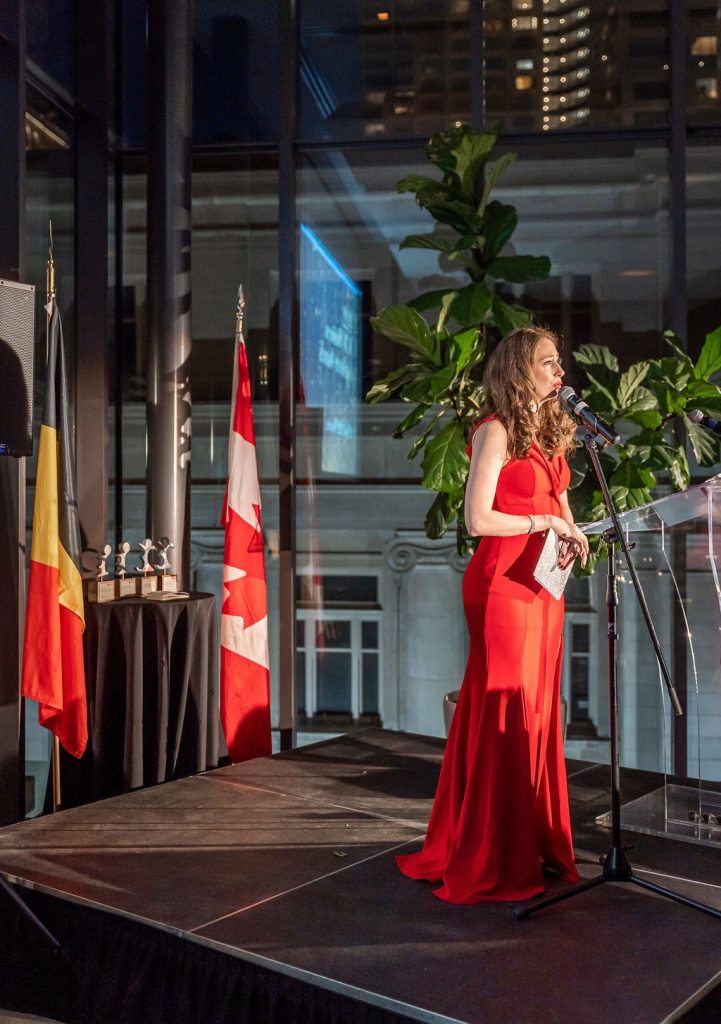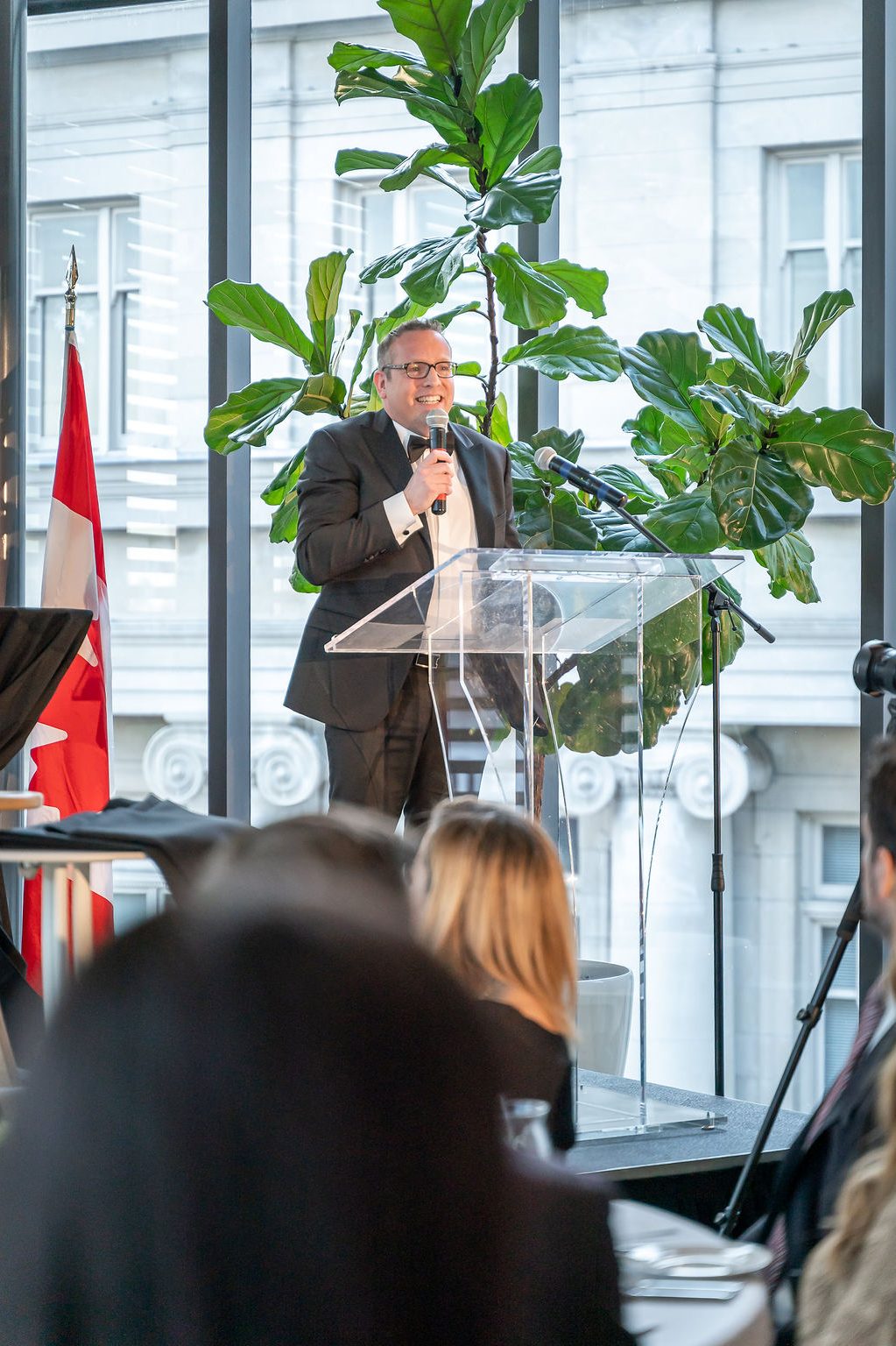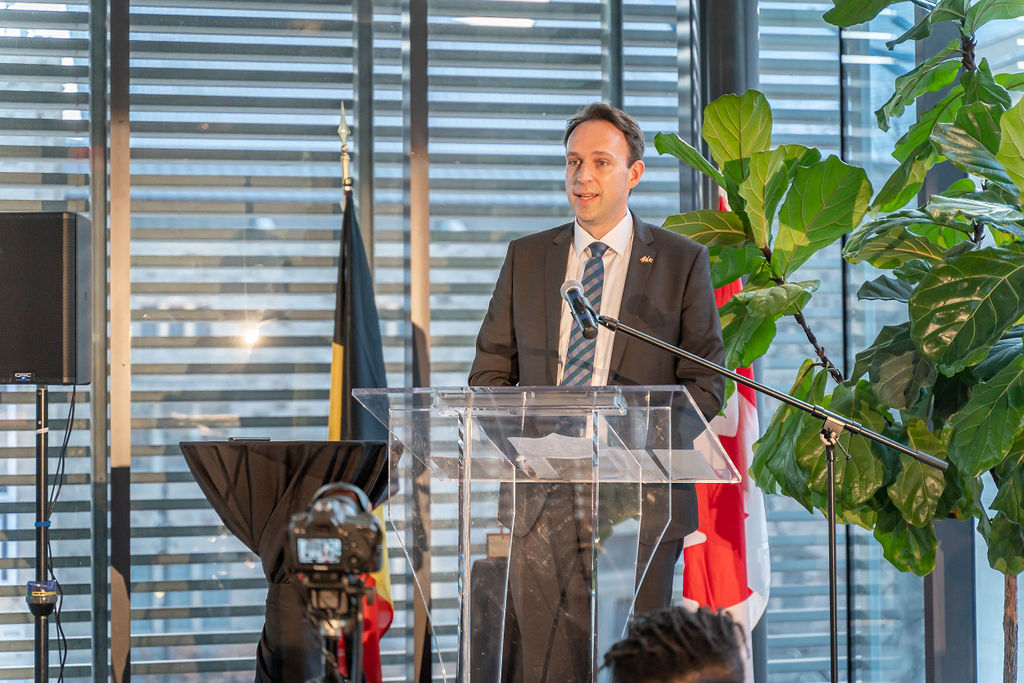 After a message of congratulations from His Excellency Patrick Van Gheel, Belgian Ambassador to Canada, guests were able to enjoy a Belgian-inspired gourmet dinner with red and white wine pairings; Belgian beers, and dessert made with chocolate from Barry Callebaut.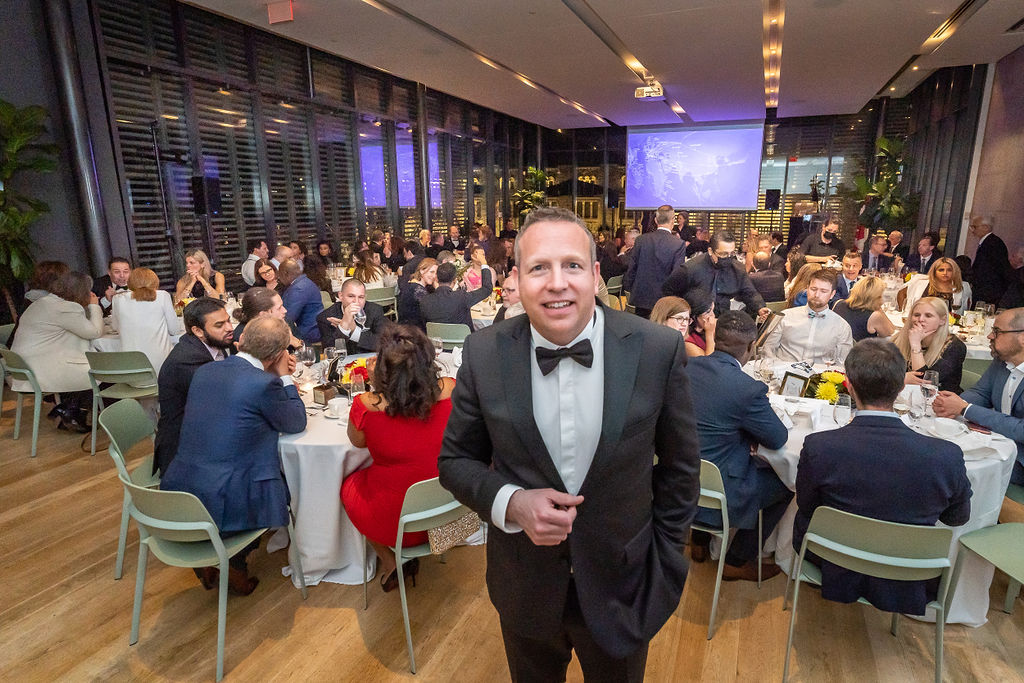 Michelle Willer, BCBC Partnership Director, initiated the Awards ceremony. Michelle explained that for the Corporate Awards we received more than a dozen applications, which is a great achievement for a first edition of the BCBC Business Excellence Awards.
Being conscious of our environmental impact, the Awards are made of recyclable material, by the artistic creator Roger Brenninkmeyer. These Awards are truly unique and symbolize the spirit of cooperation and friendship between Belgium and Canada (the B and the C).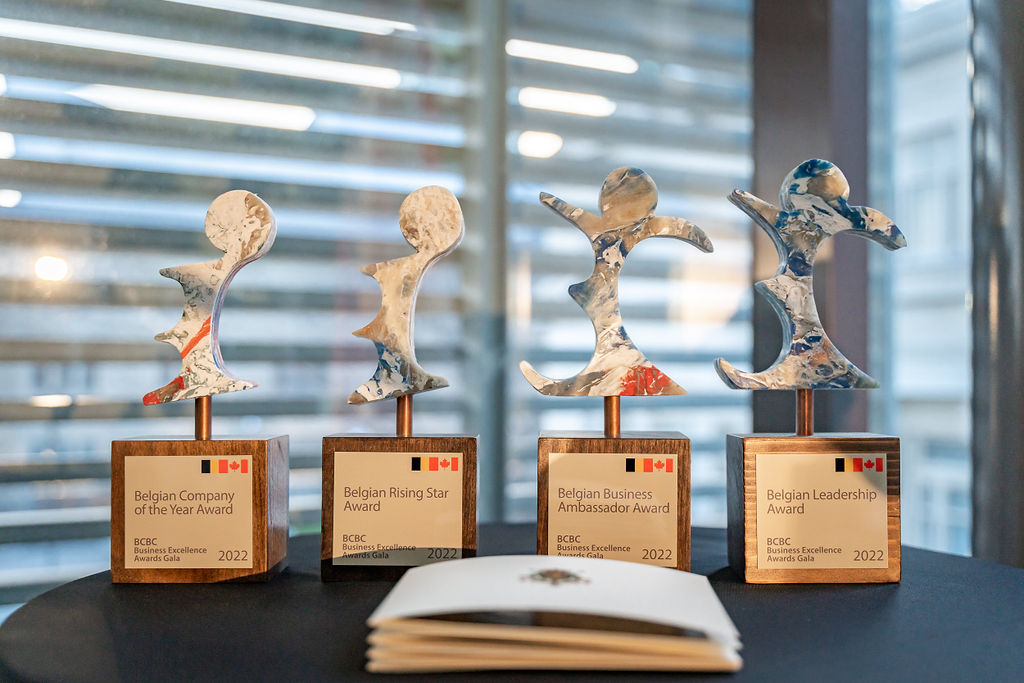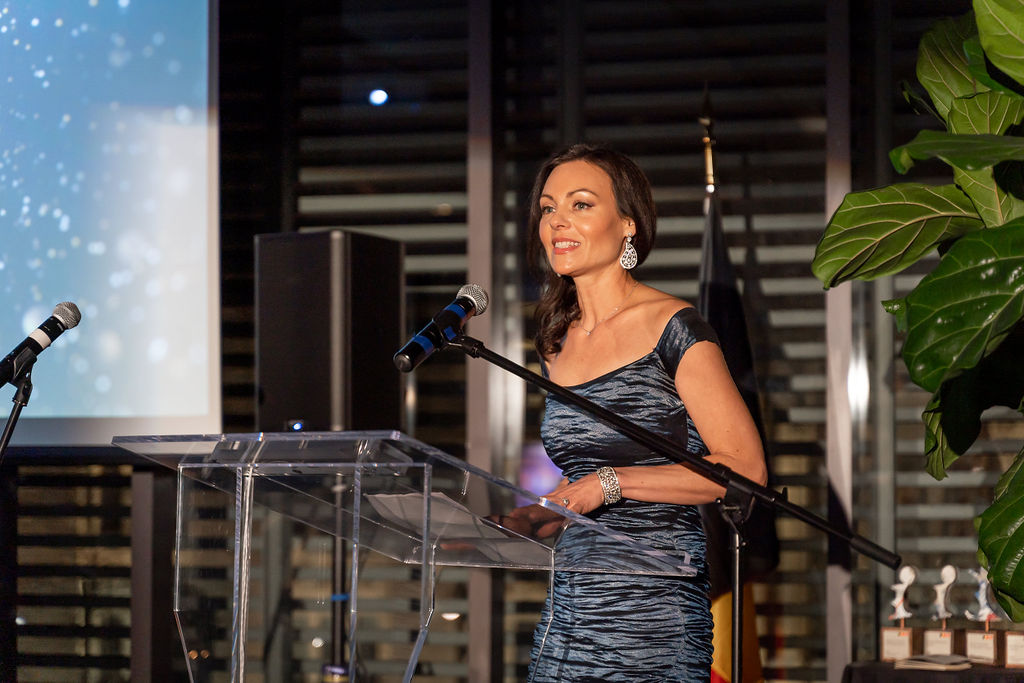 The Jury Members nominated companies in 2 out of 3 categories this year – the Belgian Company of the Year category and the Belgian Rising Star category. We thank all the Belgian and Canadian companies for submitting their nominations.
We would like to thank you Members of the Jury: Patrick Van Gheel, Ambassador of the Kingdom of Belgium to Canada, Xavier Van Overmeire, President, BCBC, Alexandra Logist, President, CABQ; Frederic Agneessens, President, CanCham Belux; Yves Lapere, Head of the Economic Mission of Flanders FIT; Frank Murari, Attaché économique et commercial AWEX; Gilles Bredas, Attaché économique et commercial Région de Bruxelles-Capitale; Wouter Van Gulck, General Manager, Federation of Belgian Chambers of Commerce; Florence Van der Meer, President, Belgian Business Club Vancouver and Gratia Derde, BCBC Project Lead.
Michelle described the Belgian Company of the Year Award. This Award recognizes a Belgian company in Canada that has made significant economic contributions to the community here, including business growth, financial contributions, and the introduction of innovative product(s), service(s) or business practices, employee development; community service; sustainability; and customer service.
The nominees for this category were:
Niboo
Niboo was founded in Brussels, Belgium in 2014 by two technology enthusiasts who wanted to create a workspace where honesty and being human matter more than performance metrics. Their business integrates a Belgian ERP software, that brings knowledge and competencies in the Canadian IT market. They are here tonight.
Café Liégeois
Café Liégeois imports coffee from the original Belgian brand Cafe Liégeois created in 1955 in Spa Francorchamps. They also provide a biodegradable & compostable solution for the Nespresso capsules. They are based in Montréal.
INCOSA SOLUTIONS
INCOSA is a leading technology supplier to the overhead crane market for electronic controls. Incosa started in Belgium in 2003 and in Canada in 2015. With over 20 years of experience, Incosa has a unique position in a niche market with state-of-the-art products. Incosa is based in Hamilton, ON and is also here tonight.
The Sponsor for the Belgian Company of the Year Award is Banque Degroof Petercam, represented by Bethany Doyle, who is a BCBC Board Member and member of the executive committee.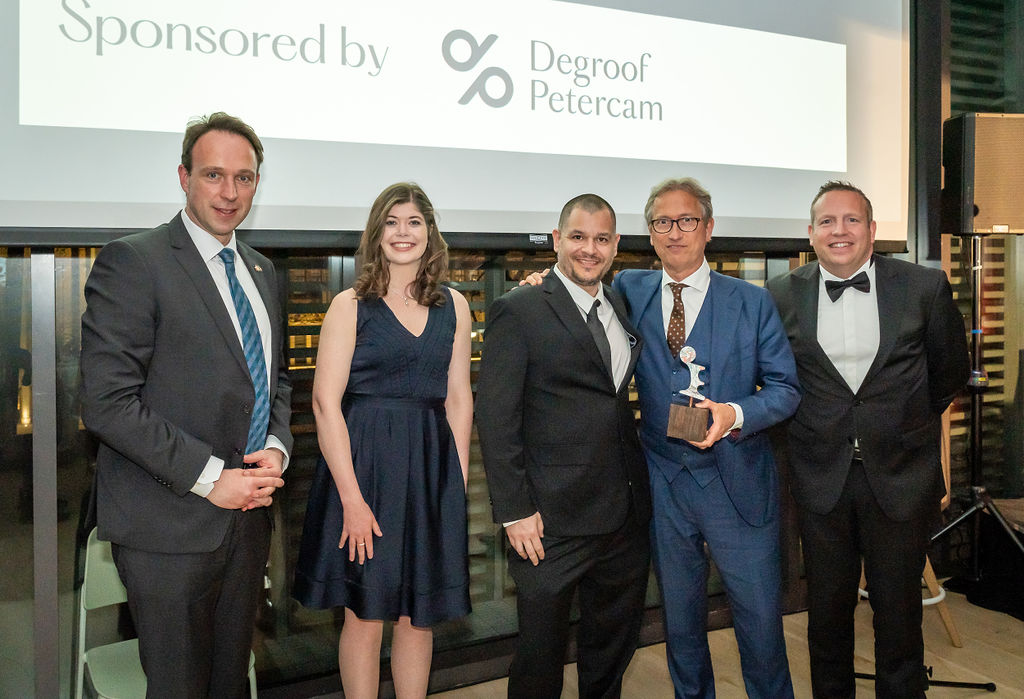 Michelle described the Belgian Rising Star Award, which recognizes a Belgian company in Canada operating for more than 1 year and less than 5 years, that has gained a positive growing reputation here, and demonstrates excellence in innovation, management, marketing, customer service, sustainability and integrity.
The nominees for this category were:
Take Air
Take Air provides a holistic approach to treat, monitor, and visualize indoor air quality. By developing a platform supported by IoT and ecological-design, TakeAir bridges the gap between the biotech innovation and communication with a building's users. TakeAir launched its pioneering technology in 2018 in Belgium and the European Union, and two years later here in Canada..
Arco Info
Arco Info is the Canadian subsidiary of Arco Information from Mechelen, Belgium – a long established market leader providing digital workflow and routing solutions within Belgium via their proprietary software platform. Arco Info is active in Canada from it's base here in Toronto. Arco Info is here tonight.
Cubigo
Cubigo has developed the first integrated platform for senior living. Their software is making a difference for thousands of seniors and their families across Canada, the US and in Europe. Cubigo is managing its North American operations from here, in Toronto. Social impact, innovation and an international champion is what caught the jury's attention. Cubigo is here tonight.
Theodorus Fund
Theodorus is a Belgian-Canadian venture capital fund, operating in Canada since 2020. In the past two years, they have created and invested in 7 companies, good for more than 200 jobs. They have a strong network of almost 50 Canadian partners with whom they work hand in hand with on a daily basis, including universities, academic research centers, start-up accelerators, incubators and VC funds. Theodorus is also here tonight.
Il Etait une Fois
Il Etait une Fois is a thriving francophone bookstore located in Oakville, ON run by Nathalie Vincke. In addition to having an extensive collection of books and graphic novels, the bookstore is also a cultural meeting place, where you will find a selection of Belgian products. Nathalie has recently launched a partnership with Les Libraires – extending the products that her customers can order online – as well as a school portal that gives access to special collections built around themes taught in schools. Nathalie is here tonight.
The Sponsor for the Belgian Rising Star Award is Solvay, represented by Brad Campbell, Director of Solvay's Site in Niagara Falls Ontario, Solvay's production and R&D facility in Canada.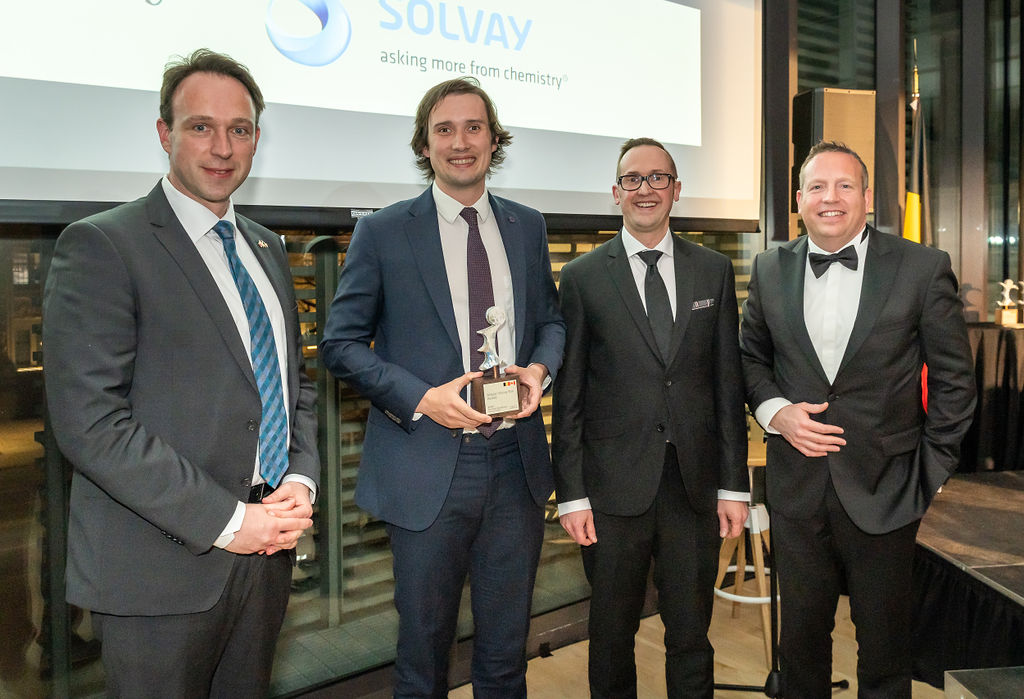 Michelle introduced 2 additional awards to honour individuals who have had a great impact on the Belgian-Canadian community here in Toronto.
The first award is to recognize Belgian ambassadorship and entrepreneurship within the community. An individual who has contributed to the positive image and advancement of Belgium, and of Belgians living in Canada.

The Sponsor for the Belgian Business Ambassador Award is Dymon Wine Cellar, represented by Christian Frayssignes, General Manager, Wine Operations at Dymon Group of Companies who is also BCBC board member.
The recipient of this award is the current Section Head of Echocardiography at The Hospital for Sick Children in Toronto, as well as an Associate Professor at the University of Toronto. He obtained his medical degree at the University of Leuven in Belgium and trained in Paediatrics and Paediatric Cardiology at the University Hospital in Leuven, Belgium and also at The Mayo Clinic in Rochester, USA. His research focuses on studying cardiac function in children, and he has significantly helped raise awareness and support for the important research conducted at Sickkids Research Science Center. We want to acknowledge the impact of his work, while raising the Belgian flag, at one of the best hospitals in Canada.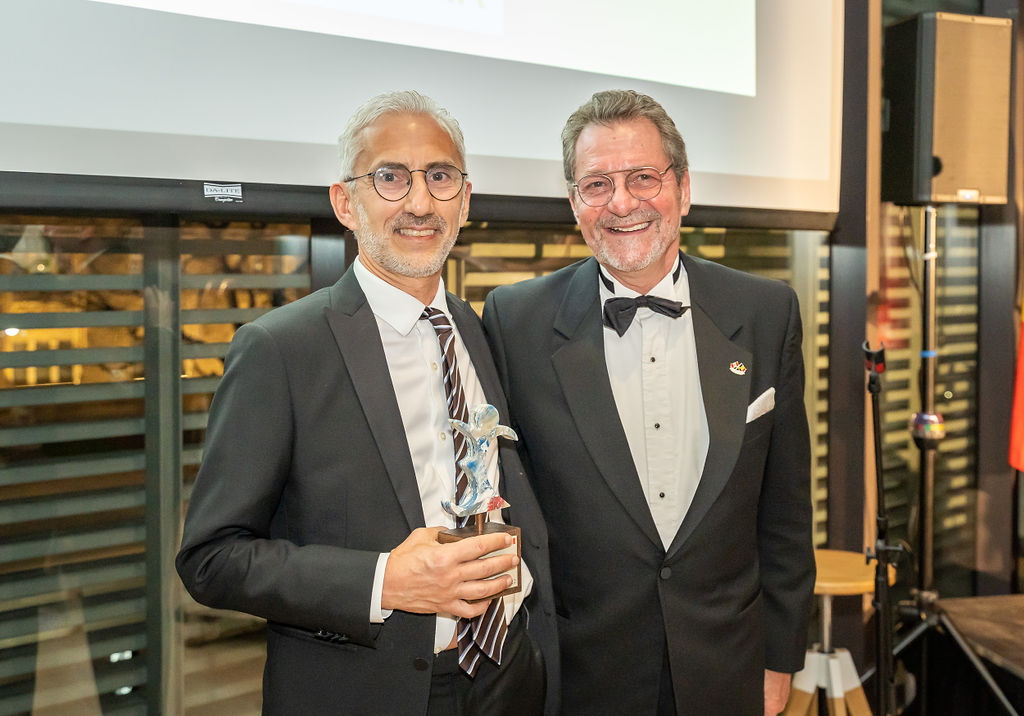 The second individual award is the Belgian Leadership Award. This award is for an individual who has truly demonstrated an outstanding effort in keeping the culture of Belgium alive in Canada. The candidate for this award is a long-standing fixture in the Belgian community in the GTA.
The Sponsor for the Belgian Leadership Award is Nelly de Breeze, of Lys Realty Group.
She arrived in Canada from Belgium with her husband in the late 80's, first to Vancouver where they both learned about the art of chocolate and worked with a fine local chocolatier. This became their passion and they later moved to Toronto to open up a small, artisanal Belgian chocolate shop. For many years, they ran this business together, crafting the tastiest Belgian 'pralines', using the finest Belgian chocolate from Callebaut. After her husband passed away suddenly, she took over the business by herself with the help of her able assistants, and now her son is learning the craft as well. Located in the eastern part of the Beaches neighbourhood in Toronto, everyone in the Belgian community happily frequents her shop. She has been an important & valued supporter of the BCBC and we have been delighted to showcase her chocolates at every opportunity. In fact, this evening, you will receive a sample of her delicious and elegant chocolates at the end of the gala in your gift bags. Her enthusiasm, energy and overall friendliness have won the hearts of everyone she has met, and we are delighted to honour her for her long-time ongoing contribution to the social fabric and chocolate wellbeing of Belgians in Toronto.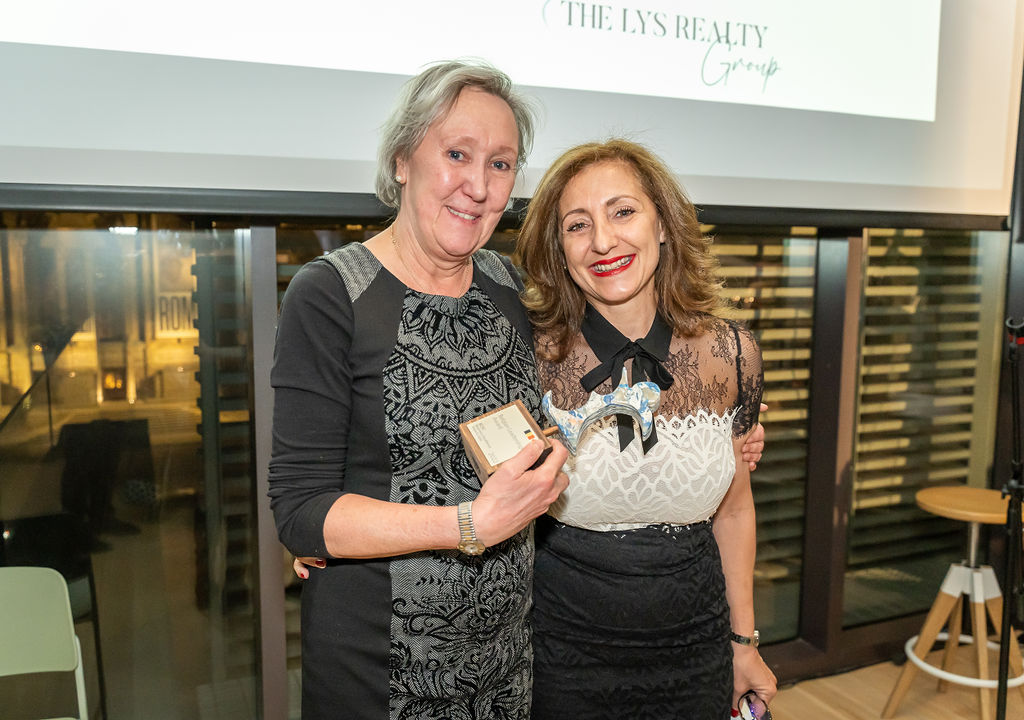 The Jury gave a special acknowledgement to another Belgian-owned business to honour incredible job at promoting Belgium here in Canada.
This business was one of the nominees and is led by a brilliant and passionate entrepreneur: Nathalie Vincke and her bookstore Il Etait Une Fois. Nathalie received the BCBC Business Excellence Award Chocolate Statue. This magnificent piece was created by the renowned chocolatier Sergio Shidomi, using Barry Callebaut chocolate.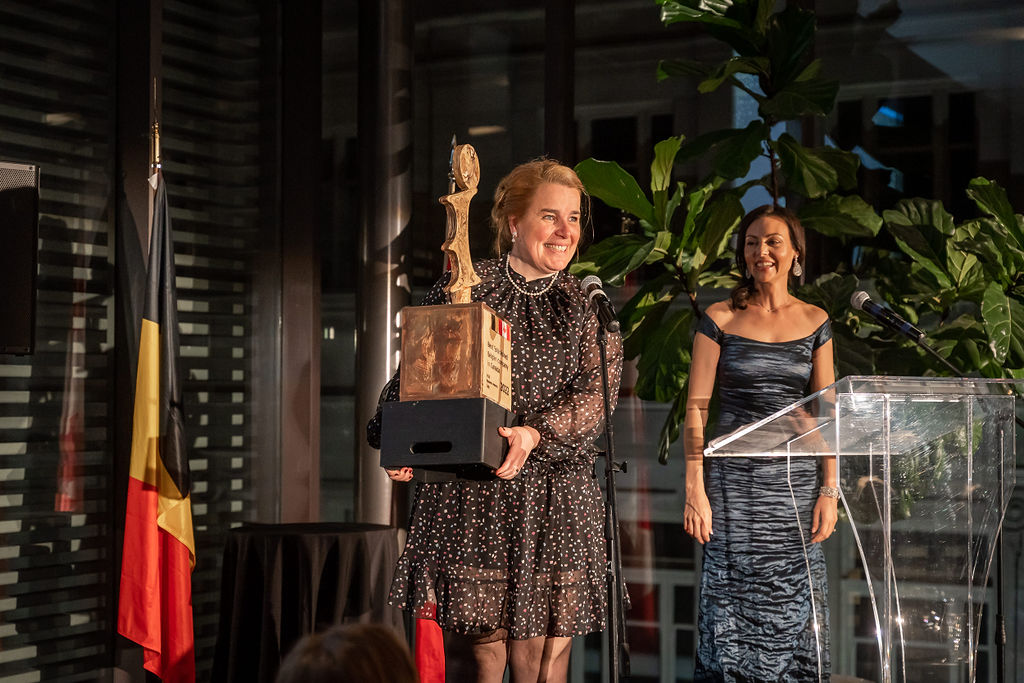 Congratulations to Niloofar Boroun for winning the 2 business class tickets, compliments of Air Canada, Rountrip Montréal-Bruxelles!
And congratulations to Stewart Shum for winning a diamond compliments of Antwerp World Diamond Council, presented by Marina Sampson, Partner & Head of Litigation in Toronto at Dentons Canada.
Christian Frayssignes, Dean of BCBC Executive Committee and Board-member, offered the closing remarks and announced the date of the 2023 BCBC Business Excellence Awards Gala: April 27th, 2023!
Christian extended an invitation to BCBC's upcoming events, on May 9 we will host a Flanders Delegation in Toronto Yves Lapere at Frites Night, we will celebrate Belgium National Day with a Garden Party in July, and on November 23rd we will organize an event to see the Belgium vs Canada football match at the the World Cup. The evening concluded after 11 pm when very happy guests took home a BCBC gift bag including gifts from BCBC Partners & naturally, Belgian chocolates from The Belgian Chocolate Shop!.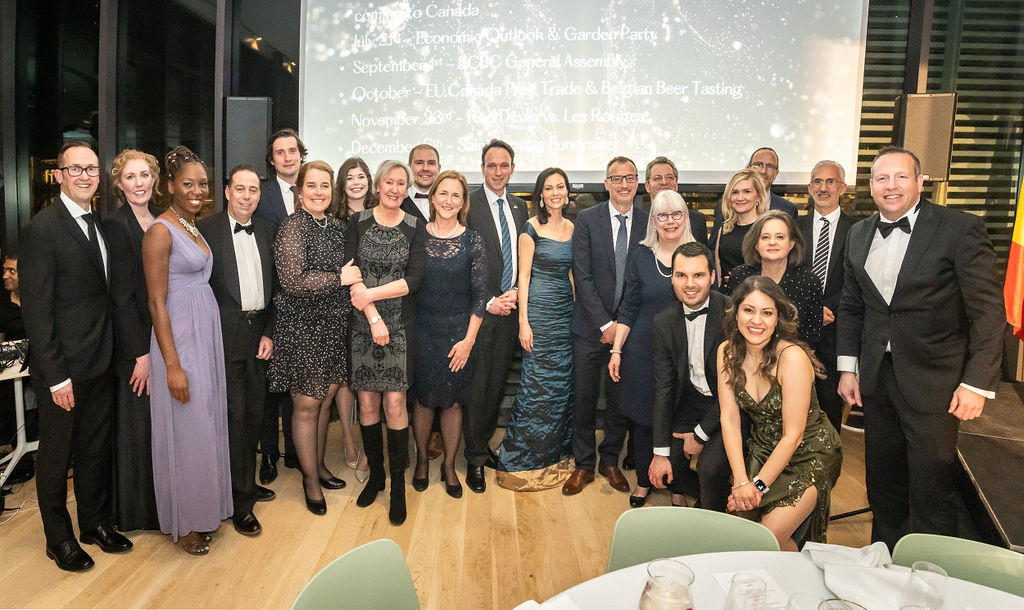 Special thanks to BCBC Executive Committee: Anne Popoff, Vice-President, Martin Cloutier, Vice-President & CFO, Christian Frayssignes, Stategic Advisor & EUCCAN Representative, Gratia Derde, Gala Director, Michelle Willer, Partnership Director, Bethany Doyle, Membership Director, Rami Khalifa, Marketing Director, Matthias De Dobeleer, Event Director and Maxime Ramon, Belgian Embassy Counsel; Board members: Frank Murari, Yves Lapere, Neil Roy, Joel Mandelbaum, Tais Bangala, and General Director Idalia Obregon. ~ Thank you very much for your devoted commitment to BCBC, especially considering that you volunteer all your time and services!
Special thanks to our Gala Grand Partners, Award Sponsors, Gala Sponsors, and BCBC Annual Partners.