CETA: Three years after, working together for the economic recovery
To review the implementation of the agreement which entered into force three years ago on September 21st 2017, EUCCAN will moderate a panel discussion.
The opening remarks will be given by Mary Ng, Minister of Small Business, Export Promotion and International Trade. Christian Burgsmueller, the Chargé d'affaires of the EU delegation to Canada and Christopher Cooter, Chargé d'affaires of the Mission of Canada to the EU will then give updates on the agreement. They will also present how CETA can be a great and viable opportunity for companies from Canada and the EU in the present and post COVID economic recovery context.
The discussion will conclude with a short presentation by Invest in Canada targeted at European companies.
Tuesday September 22nd 2020
10am – 11am EST / 4pm – 5pm CET
Free participation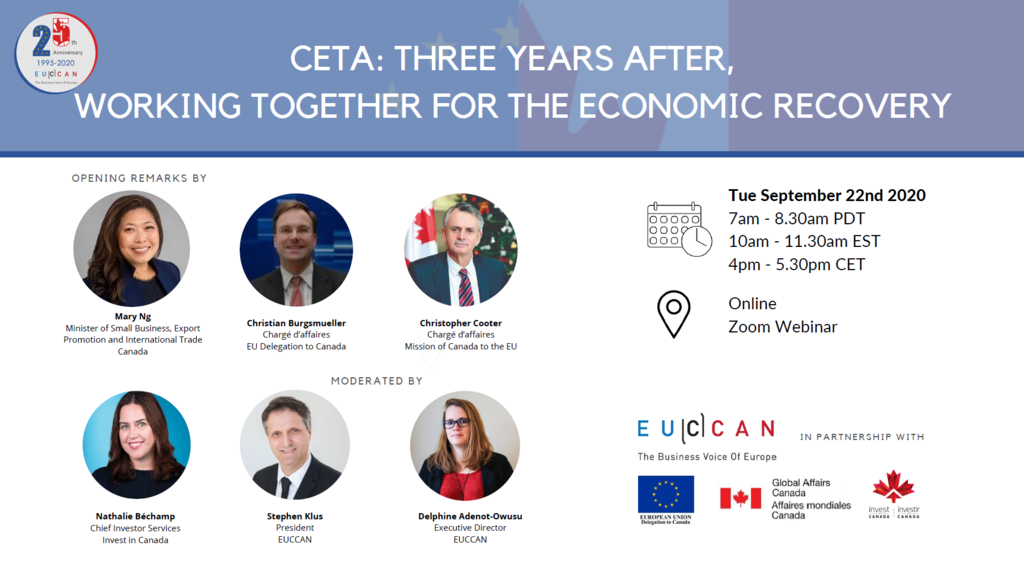 ONE WEEK, ONE PROVINCE
Series of webinar to discover trade and investment opportunities in each province of Canada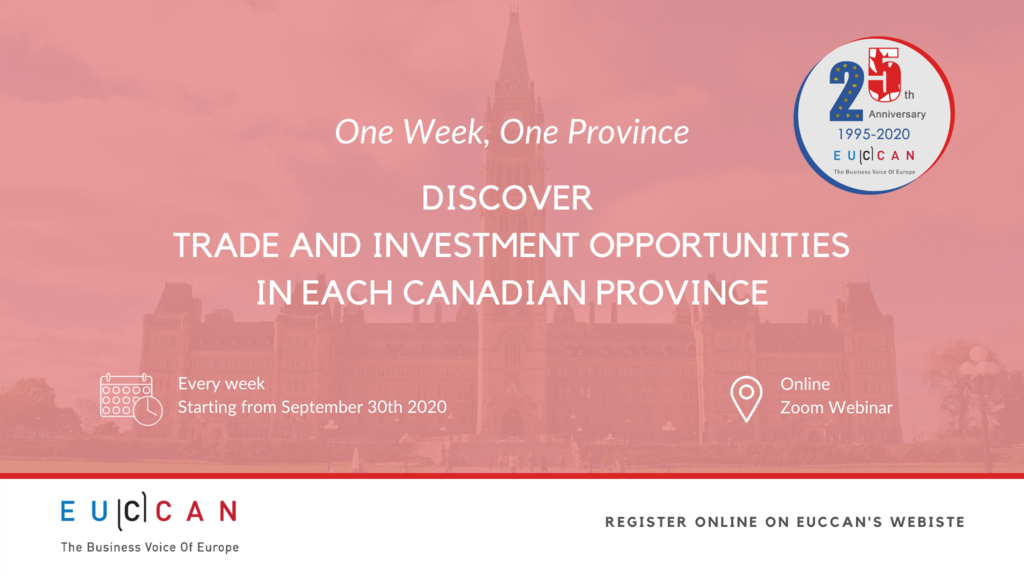 Do you work for or represent a European company? Would you like to trade or invest in Canada, but you don't know where to start, or which province to choose?
Canada has great talents, offers great market access which also includes access to the US, has a competitive business environment and finally enjoys a stable growth. Just like any other country COVID19 has affected the economy but Canada's recovery has begun.
From September to December 2020, discover trade and investment opportunities in each province. You will get to understand the main sector of attraction and some insight on how to support your trade/investment projects.
30/09/20: Trade and investment opportunities in Alberta
07/10/20: Trade and investment opportunities in British Colombia
14/10/20: Trade and investment opportunities in Manitoba
21/10/20: Trade and investment opportunities in New Brunswick
28/10/20: Trade and investment opportunities in Nova Scotia
04/11/20: Trade and investment opportunities in Newfoundland & Labrador
10/11/20: Trade and investment opportunities in Ontario
18/11/20: Trade and investment opportunities in Prince Edward Island
25/11/20: Trade and investment opportunities in Quebec
02/12/20: Trade and investment opportunities in Saskatchewan
09/12/20: Trade and investment opportunities in northern territories
Every week ~ Starting Wednesday September 30th 2020
Free participation
Register here
EUCCAN Members EUCCAN Associate Members