"Two of the world's premier teams face off on Tuesday in the 2018 World Cup semifinals as Belgium and France meet at 2 p.m. ET. It's just the third time these two squads have met in a World Cup. France won a 1986 meeting on penalty kicks and cruised 3-1 way back in 1938. Belgium won a 4-3 friendly in 2015, the last time these nations met on the pitch.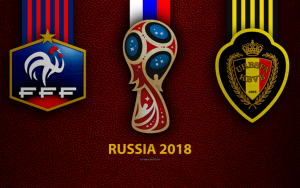 The winner heads to the 2018 World Cup final on July 15. France is the 2018 World Cup favorite to win it all at 2-1 odds, while Belgium is the second-biggest favorite at 5-2."
But we know who's going to win, right?
Join us on Tuesday July 10th at 2 pm at Le Petit Dejeuner (191 King Street East, Toronto, ON)
Go Red Devils Go!!!!