The Belgian Canadian Business Chamber together with the Canadian International Council (CIC) and the Organization of Women in International Trade (OWIT) brought together numerous experts to for a session on "It's all about CETA" on May 18th, 2018
Pasquale Madonna, senior consultant, Trade & Customs practice KPMG led off with an update on increased second -generation, public-sector contract deals under CETA. In the past, sales of goods, projects and services to all three levels of government were subject to local content rules that discouraged or excluded foreign bidders. CETA has eliminated most of those barriers.  Smaller contracts are still set aside for local suppliers.

He estimates that annual Canadian and the EU government purchases add up to 12 per cent to 13 per cent of total annual GDP. For Canada that's about US$200 billion for Canada and US$3.3 billion for the 28 EU members.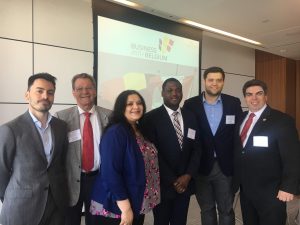 Andrew Defor, vice-president Canadian International Council (CIC) Toronto branch announced that his organization plans to promote CETA as part of its mandate to encourage debate and discussion on foreign affairs.
Anita Agrawal, OWIT Toronto president and CEO of her own jewellery design firm, Best Bargains, urged the audience to talk Canadian trade commissioners, visit overseas trade shows and make cold calls to potential customers. That last tip landed her two contracts with buyers in the Netherlands. To her amazement, she found out that EU buyers tend to pay up front for orders unlike those in Canada, where final payments can be stretched out to a year.
Romi Jaszczynski, senior export advisor, Ontario Ministry of International Trade which the province spilt off on its own in 2016 is now squarely focused on business engagement, client relationships and export support.  Of particular interest to potential CETA exporters and importers, the ministry's Export Services Branch which takes booths at key EU trade shows. In the other direction, it has an active incoming buyer programs. The Ministry offers financial support to qualified Ontario firms through its Global Growth Fund and related programs.
André van der Heyden, vice-president, Belgian Canadian Business Chamber stressed that Brussels is the de facto EU capital since it is the home of the European Commission, The Council of the European Union, the European Council and NATO headquarters. It also offers a vast network of transportation and logistics links – by sea, air, rail and road. Its location in the middle of the so-called "Blue Banana", a 500 km-long corridor ensures that deliveries to all major EU markets can be made within a four-hour drive.
In his closing remarks, Christian Frayssignes vice-president, Belgian-Canadian Chamber stated that it is still very early days so no major CETA contracts have been signed. As well, he noted that many Canadian business executives are currently more focused on trade issues closer to home. But he concluded that "When they realize the benefits of CETA and its future opportunities, Belgium will be there to help them to take full advantage of the EU's 510 million consumers."
Click here to see all the pictures: https://photos.app.goo.gl/r7Wf6on0mh4VFfe02